Nowadays, many companies have defined a security policy regarding passwords e.g. to your computer or other internal systems. As an employee you might automatically be asked to change your personal password every quarter.
This security policy is created to keep and preserve a high security standard regarding the company's internal system and data. Thus, at Emply we have made it possible to define the companies own password policy in our Emply Hire solution.
To define the password policy it is required that your user type gives you access to the tab "Subscriber" in the menu "Accounts".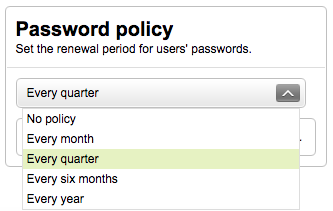 It is possible to set the renewal period for users' passwords to every month, every quarter, every six months and every year.


When the period is expired and it is time to renew the password, the user will be asked to change the password at next login.

It is also possible to set a general rule that requires all new users to change password when they log in the system for the first time.

When creating a new user or on any user's profile in general, it is possible to define a password policy applying to each individual user:
User must change password when logging in next time
Password will never expire
User cannot change password
Note: this setting is only visible for admins.

If you have any questions to "Password policy" or want some advice regarding the setup, feel free to contact Emply Support by writing an e-mail to support@emply.com or calling us on phone no. 70 28 60 50.