If you are familiar with Emply's Linkedin media, to ensure an easy distribution of your vacancy on Linkedin - on your private or your company's profile - you might also like this feature conc distributing on Facebook.
We can now introduce the possibility to share a vacancy easily and quickly from your Emply solution to your private or your company profile on Facebook.
What do I do?
1. On the tap "Publishing" you can add Facebook to your Cart
2. Click the green button "Proceed To Publishing"
3. Posting on Facebook (public)
- Titel: Make a headline for your posting
- Message: Make a teaser text if required
- Picture: Upload your logo or picture for the posting
4. Facebook invitation
- Invited persons (e-mails): Add the users in the Emply system, to whom you want Emply to send a mail regarding the possibility to share on Facebook
- Language: Choose language for your message
- Template: Choose the relevant template for your message
- Design: Choose the design for your e-mail (pre-choose if you select a message template)
- Subject: Enter a subject to the mail (pre-choose if you select a message template)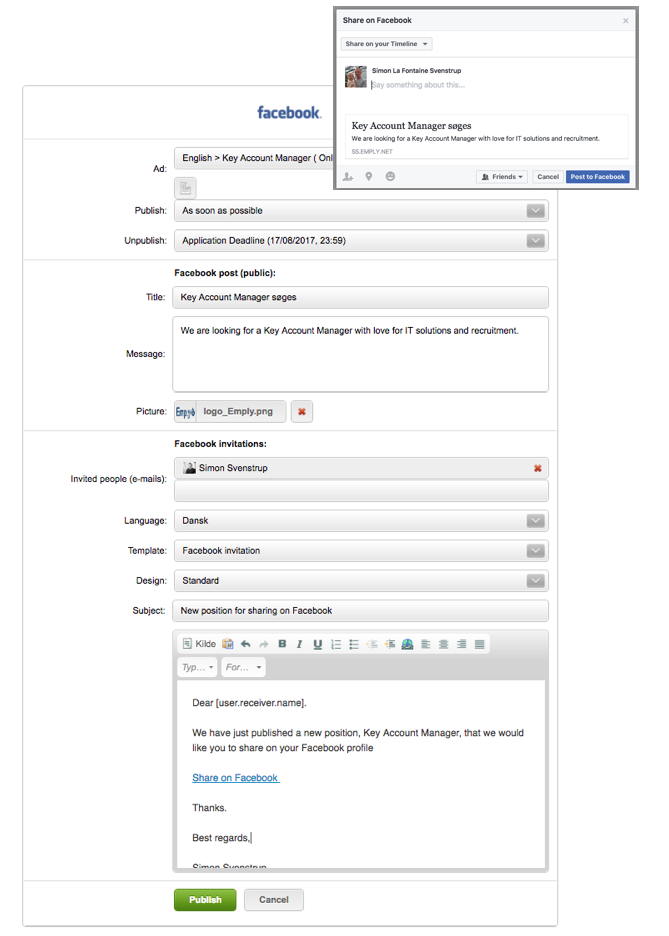 5. Click the green button "Publish" to send the mail to all the persons invited
6. The user (the person invited) just need to click on the link in the mail and follow the instructions from Facebook
PLEASE NOTE, the user can only share on the company profile, if he/she has access to the profile.
An administrator from your company needs to establish the media as well as a message template for this purpose, in order for you to publish to Facebook.
Emply would of course be helpfull with the set-up of media and message template, if required.
Did you know that.....
It is possible to have a joblist directly on your company Facebook profile?
An integrated i-frame (joblist) on your Facebook page, will ensure that vacancies will not appear in your company's news feed, but on a new tab.
In other words, you can publish directly from Emply to your company Facebook page, and it can on top of that be set up with this Facebook media, so you will only have one Facebook media visible in the system.


It only requires that the person who has access to the company page add a third-party app on the Facebook page.
Find the App here