Creating a new project is an essential feature in the Emply Hire system. A project represents an open vacancy where you and your team can communicate and interact in several ways in order to find the perfect candidate for the open vacancy within the Project. Let's make a new project.

1. Click on the "New Project" button on the project overview page.



2. Choose between "Recruitment (with ads)" or "Talent Pool (without ads)".
- Click on "Recruitment (with ads)" in order to create a new job position.
- Click on "Talent Pool (without ads)" in order to establish a pool of candidates for future job positions. In this case, we will press on "Recruitment (with ads)".


3. Now, the Setup interface will appear. This section consists of several but simple options and actions that we will go through one step at a time.
Note: Projects are customizable, meaning that you are in charge of what processes you and you colleagues are going through, when making a new project. The data fields that you use when customizing your project, can be managed in the "Project Data" section in the main "Setup" menu.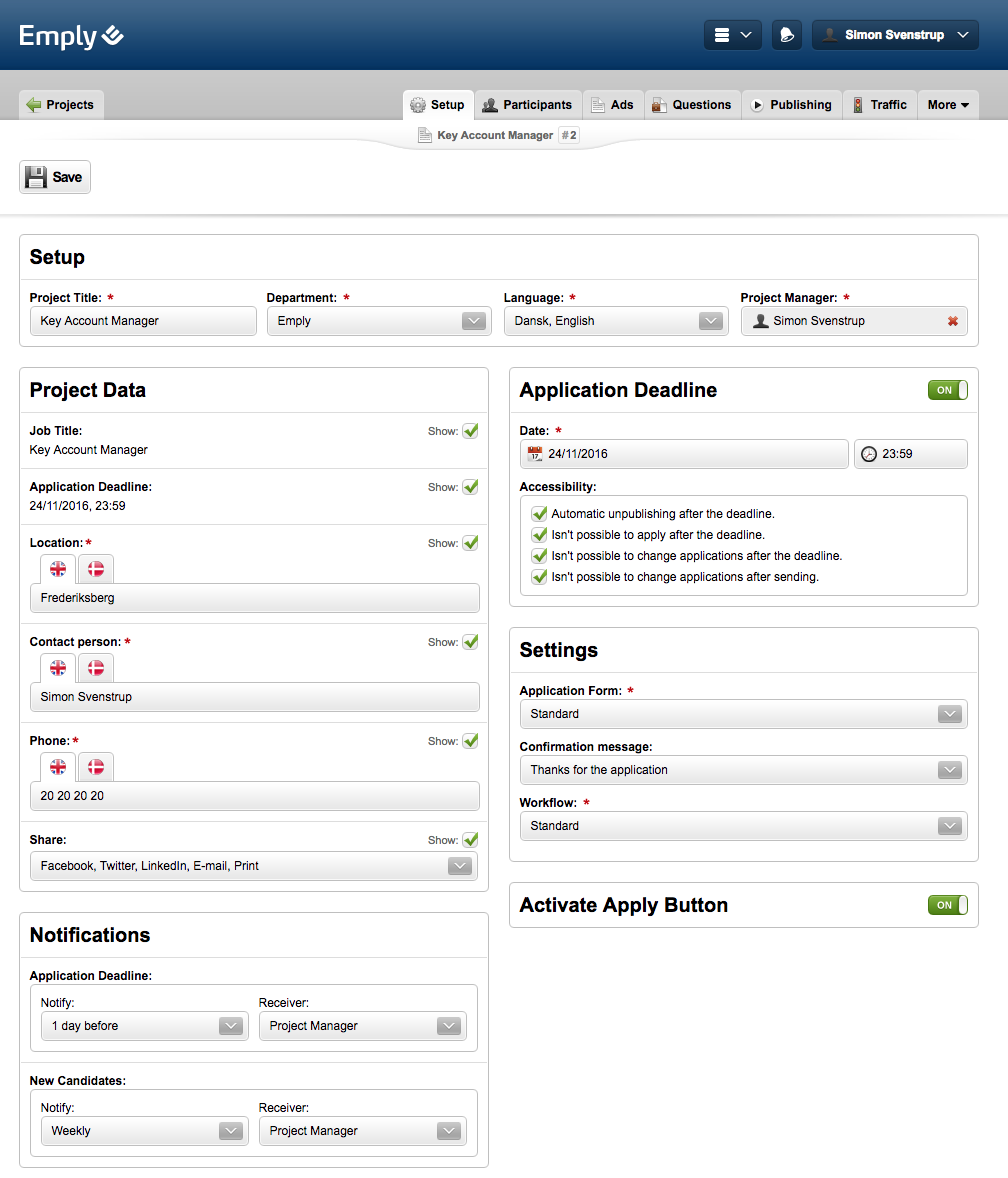 Setup
Project title: This is an internal title that gives you an overview on the project overview page so make sure that you give the project a relevant title.
Department: Choose the department that this project is connected too.
Language: If you have more than one language activated in the system you have the option to create your project with more than one language e.g. Danish and English.
Project Manager: When you create a new project the system automatically choose you as the Project Manager but you can at any time change the Project Manager to another user.


Project Data
This section can be different from customer to customer because during implementation of the system the "Project Data" is set up in the "Setup" menu. Just filled out the data fields that is required or that you wish fill out. Note that some data fields would mandatory and that some fields may not be showed on the job ad (if there is a mark in "Show" then the data will be shown).


Notifications
The Notifications section consists of two different input fields named "Application Deadline" and "New Candidates". In both cases you have the opportunity to select how often you wish to be notified and who the receiver should be - the Project Manager or all participants.

Application Deadline
Here should you choose a application deadline and/or a time for when the job ad should be unpublished. You can also deactivate the application deadline by switching it to "Off", then the application deadline would be "As soon as possible".


Settings
In this section you should start by choosing the right "Application form" from the drop-down if you have more than one application form created in the system. Afterwards you can select which confirmation message the candidates should recieve when they have applied for the position.
If you have more than one workflow in the system then a third option ("Workflow") in the settings section would appear - choose the right workflow.


Activate Apply Button
The Activate Apply Button is a crucial part of the process. If you choose to switch the button to "off" mode candidates will not use the Emply system to send their application. You will be able to add a link to an external system if the candidate should apply via that