When setting up a new project, creating an ad is straight forward. You can customize your own ads, use ad templates for specific positions, manage different languages etc.
1. Click on the tab "Ads" in the flow of setting up your new project. Then click on the button "New Ad".
2. Now, with the New Ad interface open, choose the Template and Design of your choice or write a new Ad in the text field if preferred. The Templates and Design are managed in the setup menu. Note that the "Template" is only available if template ads have been implemented.
3. Afterwards, define the Internal Description and Header of the Job Ad and add a Short ad text. The "Header" is the text shown to the readers of the Job Ad and the internal description is used to identify the specific Ad in the list of ads (if there is more than one).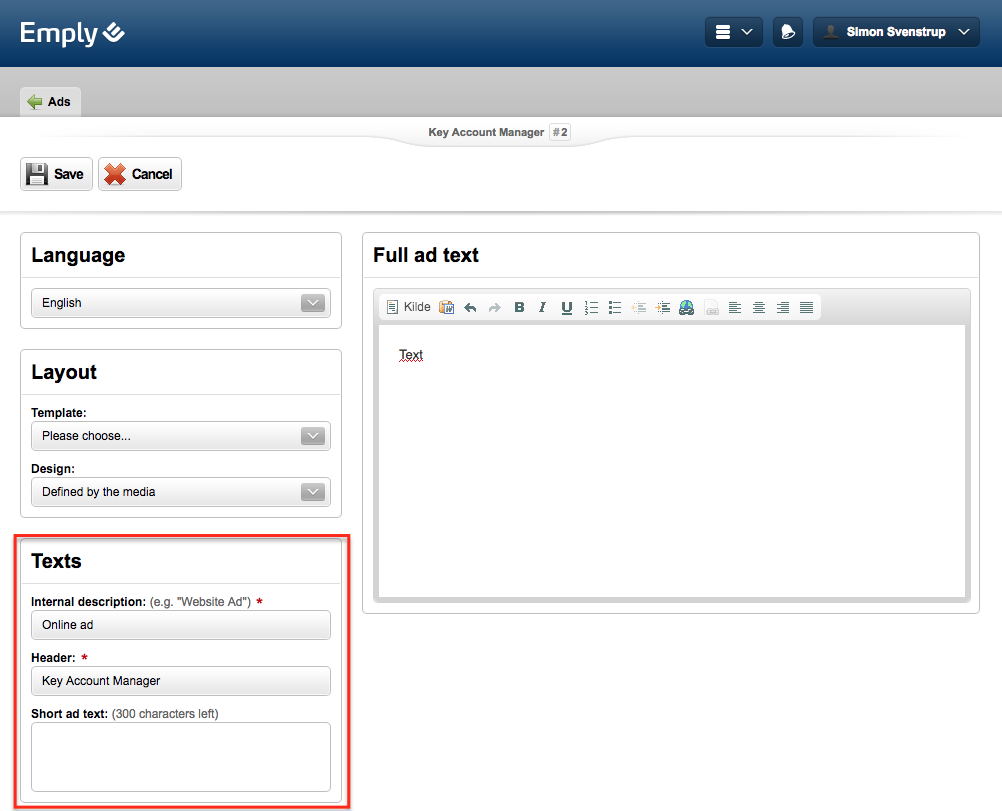 4. Your job Ad description will appear in the text field that says "Full ad text". If you choose a Template or else this is also where you can write your new ad if preferred. You can write text using the rich text editor, or you can copy/paste the add from e.g. Word
5. Note that you can add different languages to your ad templates in the "Ads" section in the setup menu.
How to insert images into your job ad for a project
If you need to add photos to your ad, then this is also an option, but you may first upload the images that you need in the ad initially.
Image processing before upload can be an advantage and you may consider uploading the images in the dimensions you want to apply in the ad - to limit the size of the image file.
This is mentioned because the ad to avoid that a very large image is used (byte-wise), which can provide a slower experience for the candidate who opens the ad.
- Select 'Documents' on the project (see the 'More' tab):

- Upload the images that you want to apply in your ad text
- Once the images are uploaded and you find them in the Documents list, you can return to the job ad in the project you want to edit.
Click the image button in the ad editor and you can select your uploaded pictures: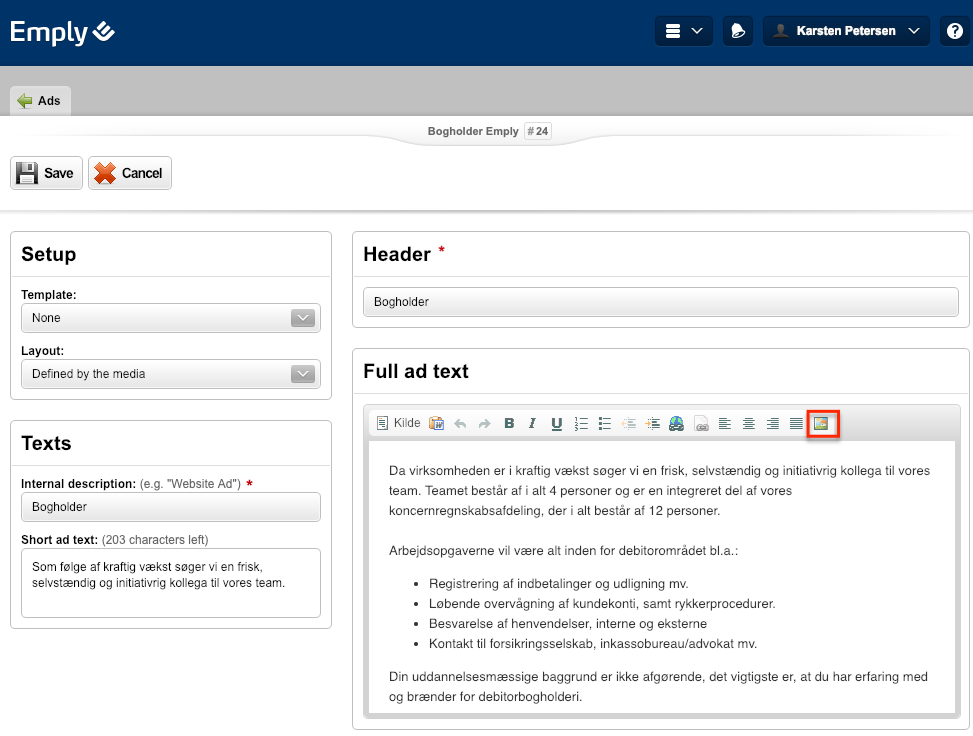 (If you find that the image-button is not clickable in the ad editor, this is because no files are found under 'Documents' - so you should first upload them as described above)
- Select the image file you want to paste, then press OK - and the image will be inserted into your ad.
You have the option to customize the dimensions in pixels when you select the file - and possibly. Subsequent, as shown below:
Then your image is added to your ad text: