The Search & Screening features are exceptionally helpful when looking for specific candidates. For instance, when you are screening and you are looking for candidates with the right educational level or work experience, Emply Hire will bring forth the exact results that you are looking for.
Search
The search feature allows you to search in all data from the candidates. You can select values from the drop-down menu or make your own search by writing in the text input fields.

1. Choose a project and click the "Search" button in the top left corner of the Emply Hire interface below the menu. Use the "Overall search" function or search for specific criteria in order to find the most relevant candidates.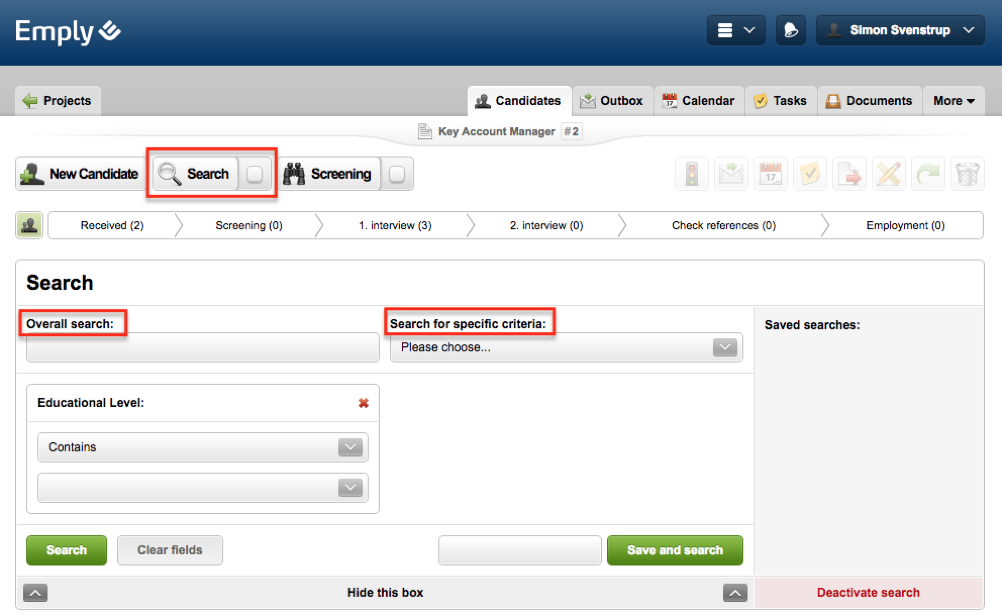 2. You will see a list of candidates that matches the criteria you searched for.
As soon as you and your HR team have read the job applications from your preferred candidates, mark the candidates that you wish to invite to a interview or mark the one you wish to send a rejection to, by clicking on the button "Message" or the button "Event".
Note that you can mark one or more candidates at a time.
Screening
Use the screening to find the best candidate by giving points for different qualifications. This is valuable if you have asked them different questions, and they can't be answered with a yes or no. You can combine the answers in many ways, and find the candidates with the highest score.

1. Click on "Screening".
2. In the screening window you can:

a. Add a title for the column – this will be the column header. You can maximum have 2 columns.

b. Select the criteria you will use for a screening. You can add as many as you like. From the drop-down you can select available data, and when you have done this you can give points to each answer.

If you have selected a single option answer, the highest value you set will be 100% - and the other relative to that.

If you have multiple selections, the system will calculate the maximum as 100%, and the candidates points will be relative to that.

c. Click on "Save and active" if you plan to reuse the screening – or click on "Activate".

3. The results will look like this:
Screening Chart
The front page shows how well the candidate matches the screening.
By marking your candidates and clicking the "Screening Diagram" button, the specific competencies for each individual candidate are now displayed.
At the bottom of the image, the candidate's color appears in the chart.
(Candidate – Will Wilson = Blue Color / Vesna Milosovic = Black Color)
Each individual candidate can be turned off by clicking the name in the chart.
Note, in order to see the chart, you require at least 3 screening parameters.