In the Media section, you can add different Media that you want to publish your job ads to. Besides that you can add Career Centers for candidates to upload their CV's and other documents into. In this way, candidates can stay relevant and at the same time be updated when new vacancies are open.

1. Go to the Setup menu and click the Media button. Then click the New Media button in the top left corner of the interface.

2. In this case, add a New Media job board. Type in the Title, choose Job Portal under Type and select the Third party integration in the last drop-down menu if Emply has a integration to the specific media. Last, click Save.
Click here and see a list of all the Third party integrations
3. If you want to create a Career Center, choose Career Center from the Job Type drop-down menu. By doing this, candidates can sign-up by E-mail, upload their CV and create a Job Agent to notify them when vacancies that match their profile are open.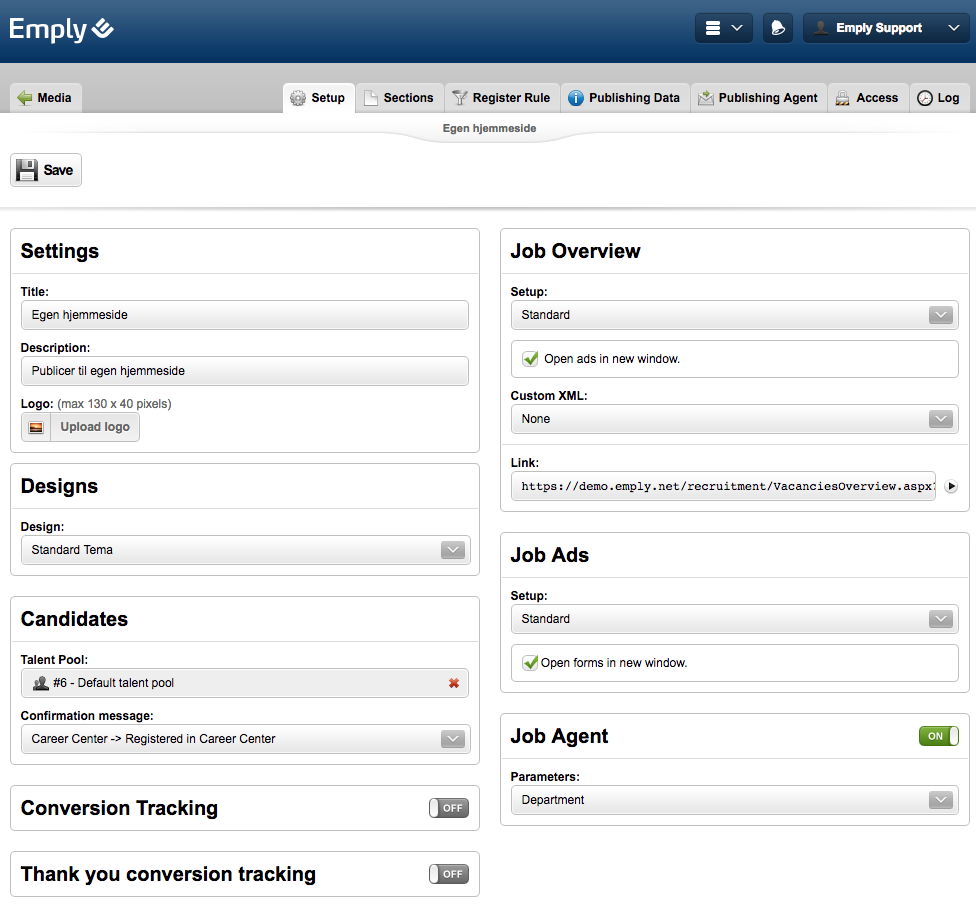 4. Settings: Type in the Title and Description.
5. Designs: Select a design/tema that will be used as default on the ads, forms, Career Center and so on.
6. Conversion tracking: Activate this if you want to track data via Google Analytics.
7. Candidates: Choose a preferred Talent Pool database that you want to use and whether or not you want to send out a Confirmation message when candidates are signing up.*
8. Job Overview: Choose Standard for setting up your overview of vacancies using Emply's default design. If you want to design your own overview, choose External website and add a URL and a custom designed XML file.
9. Job Ads: Choose Standard for setting up your Job Ads using Emply's default design in Emply Hire or make it appear on your overview of vacancies on your website by choosing External website.

10. Job Agent: Activate this if it should be possible for the candidates to create a Job Agent and be notified when a job is matching their criteria.*
11. Click on "Save" and the media is now created.
*Note: The settings "Candidates" and "Job Agent" are only available when creating a Career Center media.