1) Click on "Recruitment" in the main menu
Note: The main menu can vary based on your user role and available services from Emply. 
2) Click on "New job" 
Note: You will have the opportunity to select a recruitment template to a new job if you have created several templates.
3) Now you can edit in "Job settings" and "Screening questions"
Job settings
Here can you edit in the job settings, like language, job ad, job title, ad text, basic settings and job ad details.
Language
You can add different language to a job. This requires that the language is also connected to your account.
1) Mouse over "+" to add another language to the job
2) The language is added, and you can type the job title and ad text in multiple languages
The candidates can easily change language if there is different languages added to the job. The candidates can change the language using button like this: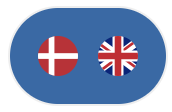 Job ad
It is possible to create several job ads, when you create a job. Maybe you want to have one ad text on your own career site, but another ad text on an external media, e.g. Monster. In the box marked below, you can add an internal title, so you have an overview of the various job ads when you promote the job.
Job title and ad text
By the green arrows, you can change the job title and ad text. Remember to paste this into any language that you have added to the job. The job title is similar both externally and internally. The ad text can be edited with features you know from Word. You can click on "Fullscreen" by the red arrow, so you have a larger image for editing the ad text.
Hiring Process
The hiring process cannot be edited here as it is defined from the template chosen for the job. This can be changed in templates.

Basic Settings
Department: Add a department for the job. You kan see the departments, which are created to your company: Main menu > Settings > Accounts > Departments. If a user only has access to one or two department, the user will only see this/these departments.
Location: The address is imported from department settings, but you can also manually adjust it here.
Application deadline: Insert the application with a date and/or time. It is possible to disable the application deadline, if you want to insert a text in stead, e.g. "As soon as possible"
Tags: Ad tags, e.g. sales, marketing, etc. 
Confirmation message: This is the message, which will be sent to the candidate after applying. Click by the red arrow to see or edit the message. The message is imported from the templatethat you have chosen for the new job. 
Candidates can edit application until deadline: You can decide if the candidates should have the possibility to edit in their application until the deadline. If this function is enabled, it is best to search, and screen candidates is after the application deadline instead of before.
Disable application form: You can disable the application form if the applications don't upload through Emply, but for example through an external recruitment agency. When you disable the application form, you will be given the opportunity to insert a link.
Job ad details
Job ad details are created under templates. You can create information such as contact person, location, date of accession, job areas, working hours, etc. This information can be displayed on the job ad for candidates in the fact box. The internal details are not shown to candidates, but only internally.
Screening questions
Screening questions is created in this tab. These questions can be answered with text, options or attachments, and can be made mandatory to answer.
If you have screening questions included in the selected template, they will automatically be added here. Otherwise, you can add screening questions here.
See example below:
Promote a job
Click "Save" when you have typed in job settings and screening questions. You will be redirected to this page from where you can promote the job to one or more of your media. You will be able to see the media created for your business: Main Menu > Settings > Integrations > Job Promotion.

How to promote a job: 
1) Click on "Promote job ad" on the medias which you will promote on
2) The selected media(s) will be added to the cart
3) Click on "Checkout"
4) Click on "Confirm payment"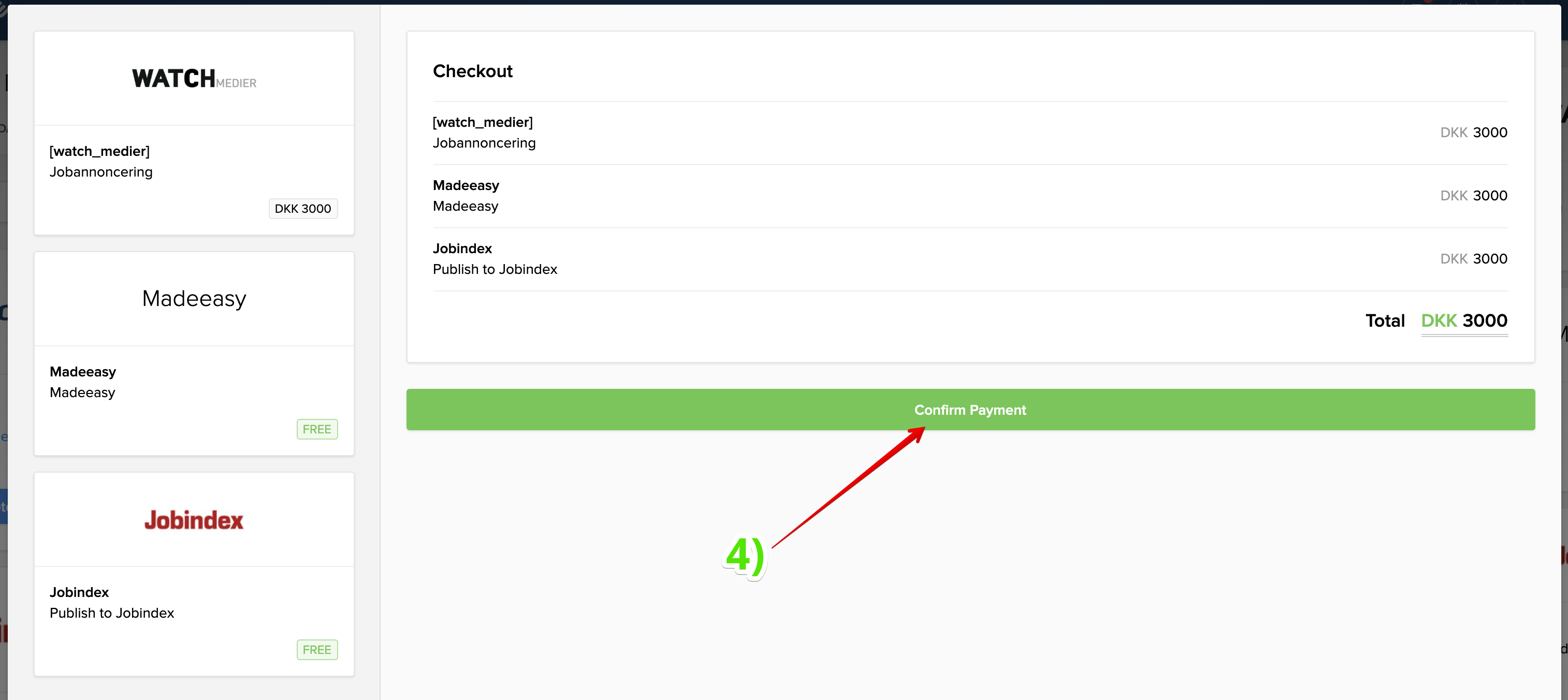 5) Once you have decided on the following to each media, you can click "Promote job ad"
Job ad
: Choose job ad if you created more
Layout
: Choose designs if you made more. Click on the eye to see a preview.
Publish
: Should the job be publish as soon as possible or on a specific date/time?
Unpublish
: Should the job be unpublished manually or on a specific date/time?
6) Now you have created and promoted a new job!
-------------------------------------------------------------------------------------------------------
When you have created the job, you can see a preview by clicking  on "Show Ad". You can also edit the job afterwards by clicking "Edit job". See below for these buttons:

-------------------------------------------------------------------------------------------------------
You can  prepare a draft for a job and finish/promote it at another time: