This document describes useful features when evaluating your candidates. You can do this from the candidate list or directly on each candidate.
Find the candidates here:
Enter the specific job
Chose the tab "Candidates"
Here listed are the candidates who has applied or has been sourced for this job
Evaluation of candidates from the candidate list
When looking at the candidate list, it is possible to evaluate each candidate by some simple functions:
Read documents, evaluate candidates, comment on candidates and show followers, applied jobs and/or talent pools as well as assigned tasks.
Note: Your user role might not allow access to all below mentioned features.
Remember, you can chose list or tile view here:

And here you can determine the data output:
Read documents
By clicking this icon you will have access to all the candidates attached documents in a PDF viewer.
By clicking the white arrows forward and back or using the arrow keys on your keyboard you can see other candidates documents.
Do you want to print or to save the PDF on your PC, this is possible on the icons below the top bar.
Evaluation
This icon is a tool for a quick evaluation of candidates. You can chose to rate a candidate one of these four ratings: Blue is an excellent candidate, green is a good candidate, yellow is a "don't know" candidate and red is a bad candidate.
Mouse over this icon to make your evaluation of a candidate:

The average evaluation from the whole team is showed here.
Comment

On this icon the users can write a comment about the candidate. As default this is visible to all team members. If you want to hide your comment you can click the padlock button and make it private.
Note: A comment will always be visible to users with administrator rights, even if it is a private comment.
It a comment is added to a candidate, it will look like this: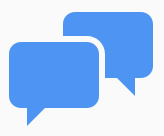 eller
.
You can mouse over and read the comments.
Followers
You can mouse over this icon and see who is following this candidate. Click the heart icon if you want to follow the candidate yourself.
Applied jobs
Mousing over this icon you can see if a candidate has applied for other positions in your Company. The status of the different jobs is visible, only visible to users of same department.
Applied talent pools

Mouse over this icon to see if a candidate has applied your talent pool/s:


Tasks
This icon shows if there is any tasks connected to the candidate. Here different signs can be shown:

indicates a future task

indicates a created - but not yet executed - task

indicates there are no tasks connected to this candidate


indicates a created already executed task
Evaluation of candidates from the candidate profile
It is possible to evalute a candidate directely on the top bar of his/hers profile. The top bar contains features from the candidate list, as described above. You can also to this from the PDF viewer, when reading the candidates documents.