Here you can learn about the basic setup of a form, such as an Application Form, an Employee Form, an Evaluation Form or a normal Form. You can learn how to create/edit a Form here.
How to add a new step
When you create a new form it will appear empty, and you have to build the contents. We start by adding steps, in which you can add elements:
1. Click on "Add Step"
2. Name the step
How to add a new element
1. Unfold the step, where you want to insert an element
2. Click "Add element"
3. Choose which type of element you require (Which possible answers would you like)
4. Fill in content of the new element (Which question do you required answered)
The content will vary depending on the type of element.
Content of the type of element "Options":
Content of the type of element "Text Answer":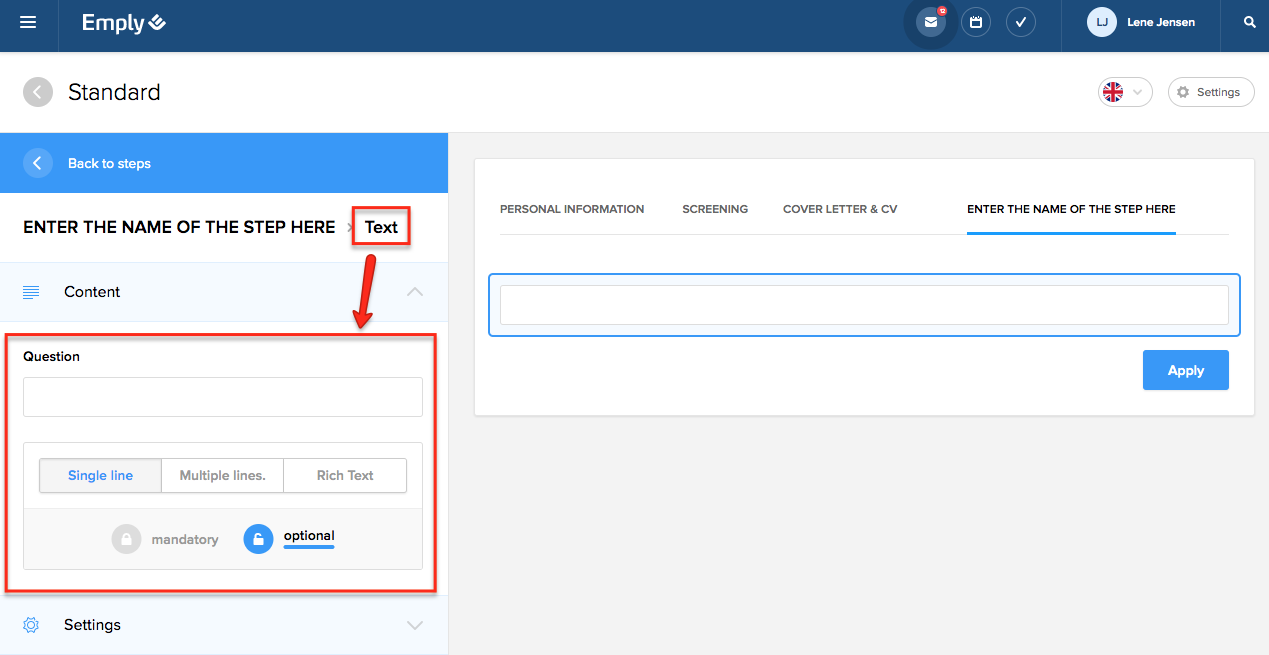 Please note, you can add an existing element from another form. It requires that "Use in other forms". It requires the function "Use in other forms" to be activated on the element. This is done on the existing element when editing, and choosing "Settings" -> Advanced. You can find a list of shared elements here: Main menu -> Settings -> Forms -> Shared elements
Other tips for setting up a form
You can change the order of steps and elements by pull and drag the three horizontal lines:



Each question on an element can be made mandatory or optional:


When you mouse over an element, you can see three icons to permit:


Blue icon = Edit the element
Green icon = Quick shortcut to create a new element after this one
Orange icon = Split into two elements, placed next to each other. It is possible to drag vertically to make the right setting/division and/or delete on the red

X.



Click the below icon under a step, to devide the step in a left and right column:

Here you can read how to hide certain elements untill certain obtions have been choosen.