Here you can learn how to create/edit an automation of a number of certain actions, such as a workflow in connection with manually created candidates in order to send the form for acceptance of the Privacy policy automatically - or a workflow for sending forms for collection of references, when moving a candidate to the step "Reference" in the hiring process.

1. Go to main menu -> Settings -> Automations
2. Click "New workflow"
... or mark and edit an existing workflow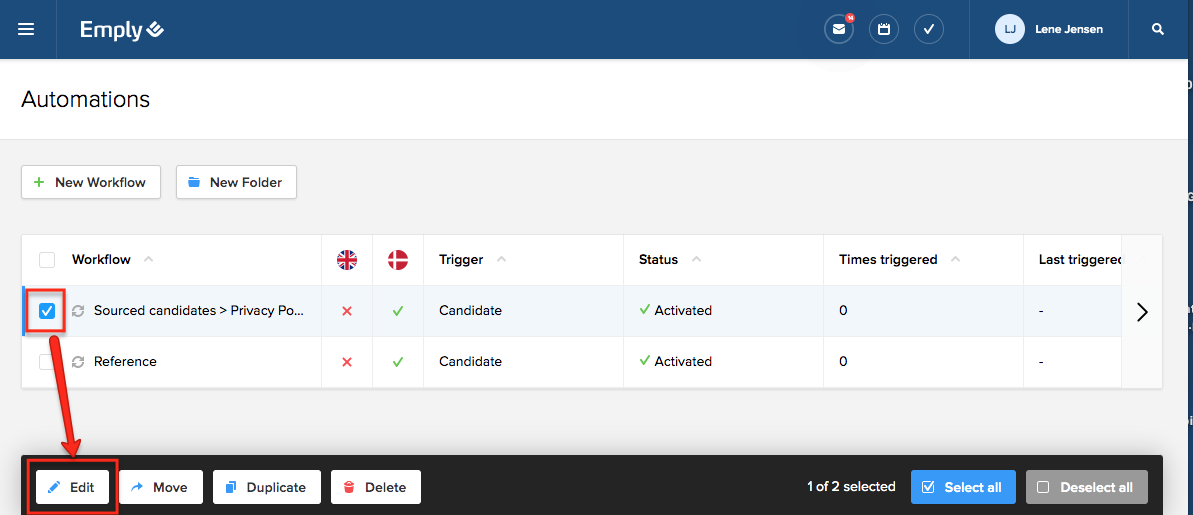 3. Name the workflow and ener a description if needed
You can enter title and description in a second language connected to your account by clicking the green "+"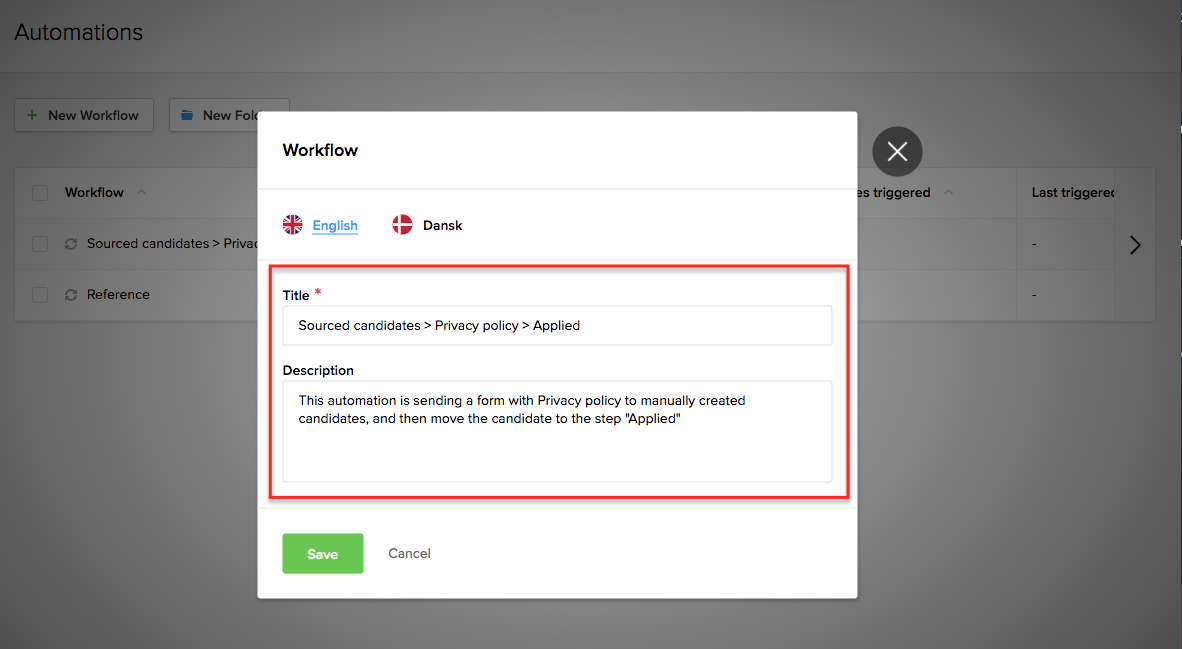 4. Click "Save"
5. Choose below what this automation is about: Employee, Candidate, Job or Talent Pool

6. Choose when this automation should be triggered
Created: Automation triggered, when X is created
Updated: Automation triggered, when X is updated
Scheduled: Automation is triggered on a certain date and time
Manually: Automation is triggered by manual selection on the candidate
Deleted: Automation is triggered when X is deleted
X corresponds the chosen in step 5.
7. Choose which criteria should match in order for this automation to be triggered
This could be a department, a certain pipeline step or an answer to questions in a form/application form.
It the automation is to be triggered always, choose "None".
8. Click "Save"
Now you must define which action/s to be triggered in this automation
9. Click on "Add action" and choose between: Task, Message, Form, Move or Notification

Task


Assigned and completed in the system
Indicate the responsible receiver

Message

A mail can be sent
Indicate receiver and sender

Form

To be filled in by receiver (user, employee)
Indicate receiver and sender

Move (Can only be chosen when chose of candidate, step5)

To a pripeline step or a disquality reason)
To a job or a talent pool

Notification

Short message to be sent in the system
Indicate the receiver
10. Fill in details concerning the chosen action
11. Click "Save"
12. You can add more actions by repeating step 9, 10 and 11
13. Click "Inactivated" in order to activate your automation. It is now active and ready for use