Here you can learn to create a message template.
A message template is a good tool to send messages to users, candidates or employees. The template can be used and simply adjusted if necessary before sent.
1. In main menu enter "Settings" -> "Templates" and choose Messages
2. Click "New Message" to create a new message template or.....
... mark an existing message template in order to edit it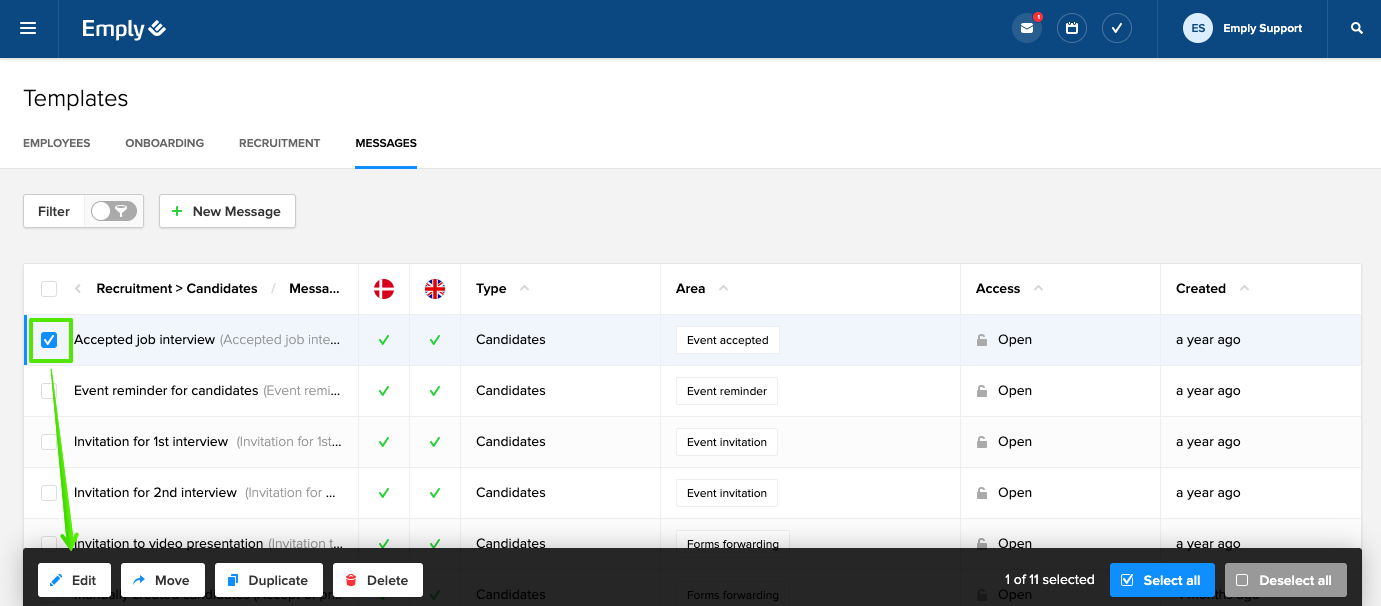 3. Fill in the details of the message template
Language: Choose language for this message template. The template can be created in various languages.
Internal titel: Name the title for the internal description. This is shown when choosing a message template when sending a message.
Type: Choose who this template is meant for, eg Employees, Candidates or Users.

Area: When the type is determined, add here one or more areas, where and when the message template is to be used.

4. Fill in "Subject", choose an e-mail design and finally insert the message text

Once the details are determined, indicate the "Subject", choose an e-mail design, and insert the message text required.
It is an advantage to use Keywords in the in the message text, in order for the system to insert data such as Name, Sender Name, Job Title etc.
In fact, all elements from the forms can be used as Keywords.

Click the button "Keywords" to insert keywords.




5. Click "Save" to save your message template
The template is now created and ready for use.

Did you know, that it is also possible to create a message template for SMS ?
You can choose to associate a SMS section to an existing message template by activating the SMS section, or you can choose to create a separate message template for this purpose.