In this article you can read about the basic setup of a recruitment template. When there are several recruitment templates, when creating a new job or new talent pool, you have to choose from:
1. Go to "Templates" via "Settings" in the main menu and click on "Recruitment", and chose whether you want to create a template for job or talent pool
In this article, we will create a new job template. The procedure for creating a new template for a talent pool is basically the same, but with minor differences, which are described below.
2. Click on "New job template"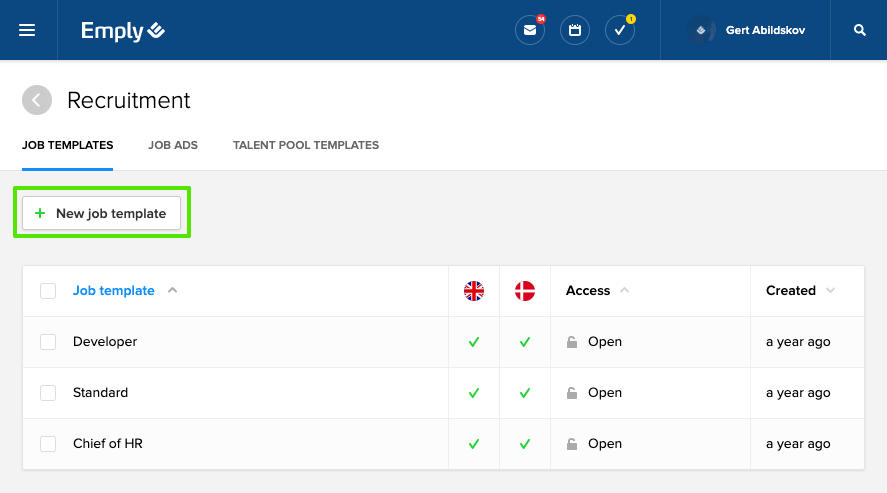 ... or mark and edit an existing template
3. Choose if it is a template for a job or talent pool and click on "Continue"
A recruitment template is divided into these four tabs, which are further described:
NOTE! When you are creating a new template for talent pools, the "Details" tab should not be filled.
1. Information
Under this tap you can change the following:
Language: Should the template be created in multiple languages? It is possible if there are multiple languages associated with your account.
Title: Give the template a title that is used internally when choosing which job template you want to use when creating a new job.
Tags: Add tags, e.g. sales, marketing or similar. All candidates who apply for the job with this template will have the tags added to their profile. This can also be added when the job is created.
Job ad: You can select an ad template for the job. If you do not choose one you can write your own ad or select an ad template when creating a job.
Read more about ad templates here.
NOTE! When you are creating a new template for a talent pool, you do not have the option to select an ad template due to the fact that there is no ad text for a talent pool.
Application form: Choose which application form to use for this template when a candidate should apply for the job with you.
Read more about creating/editing forms here and/or the basic setup of a form here.
Manual application form: Choose which application form to use when users manually create candidates for a job. If nothing is chosen, the application form must be completed instead. This way, you can decide for yourself what data you want to fill in when candidates are manually created for a job.
Read more about how to create a for for manually created candidates here.
Confirmation form: Choose which message template to send when a candidate has applied for a job. You can also change the message template itself when creating a job.
Read more about message templates here. For a message template to appear, the message template must have the following area added: "Job>Verification".
Edit application: Enable or disable if a candidate must be able to edit his/hers application after submission (up to the deadline). This can be changed when creating a job.
Hide deadline for application, so the application deadline is end of day: when activating this, you no longer must set a specific time for the deadline under general settings for the job. Thereby the deadline for applying will be end of day (23:59).
Create with all available languages: Allows you to create your job posting with all the languages available on the platform. When creating a job, you can see the available languages in the top of the window, if you hold the cursor over a language/flag you can remove a language.
Track changes on job posting: Follow changes in your posting. Note, after activation you will have an additional function in your text editor on the job, where through you can administrate the rules for tracking changes.
NOTE!When you are creating a new template for a talent pool, you have the option to enable or disable these points:
Apply with: Should the candidate be able to apply with LinkedIn and/or Jobindex? Note that this is a service to the candidates and you will not get a link to their Jobindex profile og LinkedIn profile. If enabled, it will look like this to the candidate when they hit the "Apply" button:
2. Details
Under this tap you can change the following: Job ad details and Internal details
Job ad details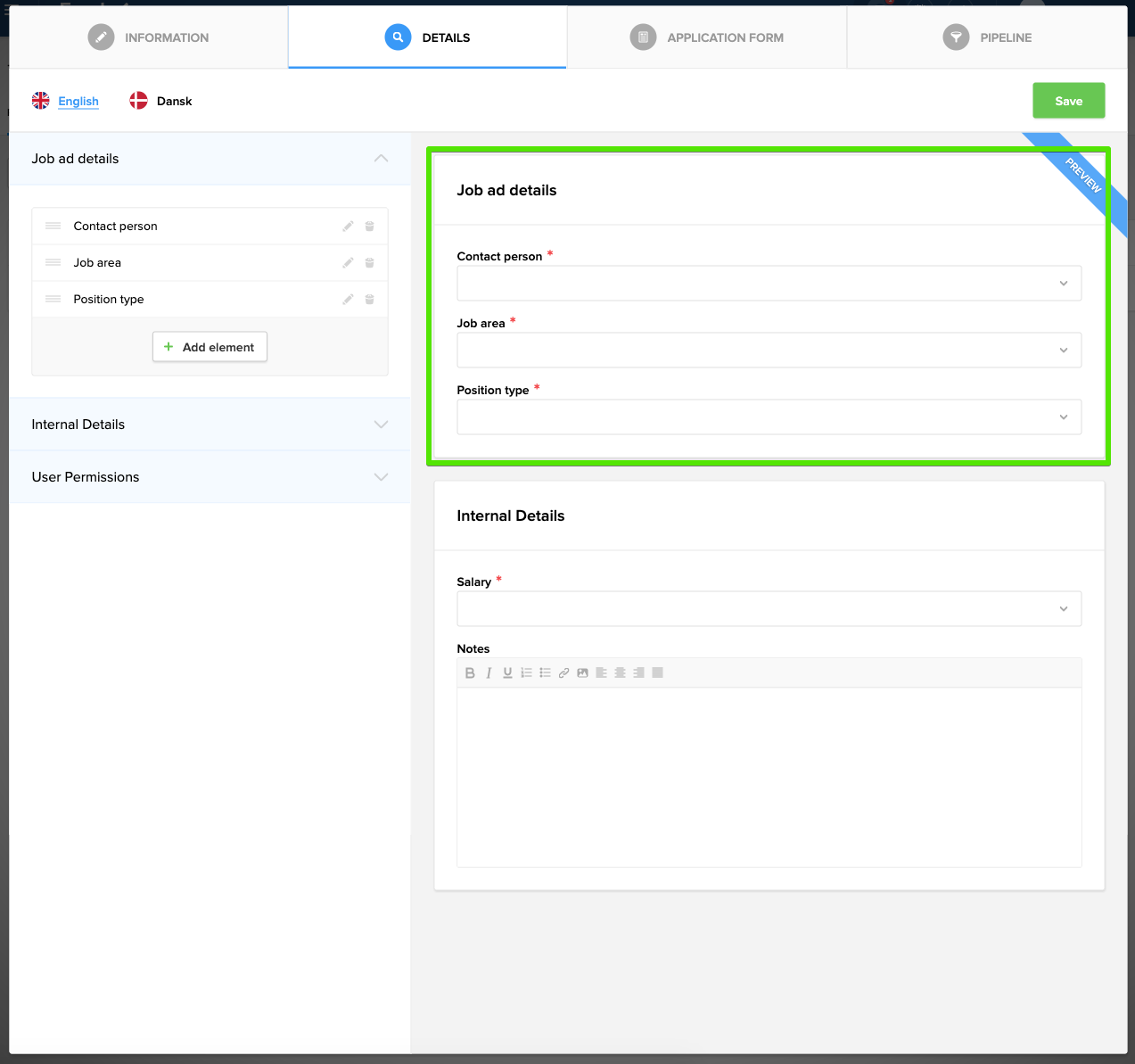 Here you can add which job add details to fill in when creating a new job. These job details can be displayed on the job list on the career site, in the fact box on the ad design and/or in the job agent. In addition, these job details could be used for internal reporting.
The job details setup is very similar to how to add/edit an item in a form. You can read about this here.
Here are a few examples of job details:
Contact person
Accession
Discipline/Job area
Employment type/Position type
Employment form
Internal details
In addition to job details that can be used externally, you can also add internal details to a template. This could be salary.
3. Application form
Under this tab you can see a preview application form, which is selected on the "Information" tab. You can not change the application form her as this is done in "Forms" (read more here and here).
From this tab, you can add screening questions to include when using this template for a new job. It could be if there are special screening questions for a particular job type e.g. student. Read more about screening questions here.
4. Pipeline
Under this tab you can change the following: Hiring process and Disqualified reasons.
Hiring process
The hiring process is a great tool to form an overview of the candidates, as well as how far along the recruitment process is. You can see this under candidates:
It is possible to more than one hiring process, when you have several job templates, and thereby you can customize the hiring process according to the position type and your needs. E.g., if you need a hiring process for active positions and another for unsolicited positions.
Under the tab "Pipeline" the hiring process can be adjusted to suit your needs and workflow.
An hiring process will always include "Sourced", "Applicant" and "Employee". The steps in between can freely be adjusted. Below you can more about moving, deleting, editing or adding a step in the hiring process.
Here's how to move a step
Drag the step you want yo move
Release the step where you would like to move it to
Here's how to delete a step
Hold the marker on the step you would like to delete and click the red X
Click "Delete"
Here's how to edit a step

Click on the step you want to edit
Make your corrections
Click "Save"
Here's how to add a step
Click "Add stage"
Fill in the details of the new step and click "Save"
Disqualified reasons
Finally, you must define the disqualified reasons on the job template. These are given to candidates when they have to refuse. The candidates is not presented for the disqualified reasons, but these can be used for internal reporting.
If you click the gray envelope icon on a disqualified reason it will turn blue, and the message window will show, when you give a candidate a given disqualified reason. In that way you will get a reminder to send the rejection to the the candidate: