Here you can learn how to create/edit approval process in Emply. It is an advantage in case jobs are created decentralized, and you need an approval flow when publiching jobs.

1. Go to main menu -> Settings -> Approvals
2. Click "New process"
.. or select and edit an existing approval process
3. Name the process enter a description if needed
You can enter title and description in a second language connected to your account, by clicking the green "+"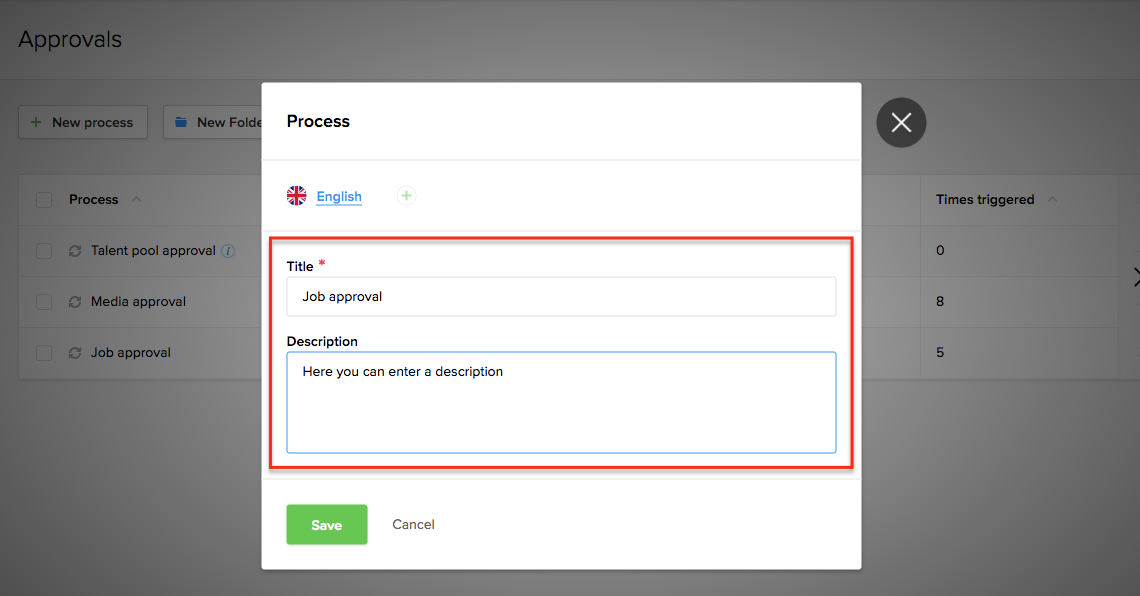 4. Click "Save"
5. Choose the subject of the approval process: Job, Job promotion or Talent Pool
6. Choose which criteria should match for the approval process to be triggered
This could be an appartment, a certain job category, a job detail or a media.
In case the approval process is always to be triggered, choose "None".
7. Click "Save"
8. Click "Add Step"
9. Fill in details concerning the approval step
Title: Name the approval step
Trigger: What will trigger this step
Approvers: Who and how many can/shall approve
You can mouse over "Need to approve" and choose how many approvers need to approve

Area: Which area needs to be approved *

Job ad
Job ad details
Screening questions
Basic Settings
Internal Details

Description: You can enter a description here
* Only to be entered by approval of Job, see step 5.
10. Click "Save"
11. You can enter more steps be repeating step 8, 9 and 10
12. When finished you can activate your new approval process by clicking the button "Inactivated" and it is now active and ready for use